FlexCare and The Great American Triathlon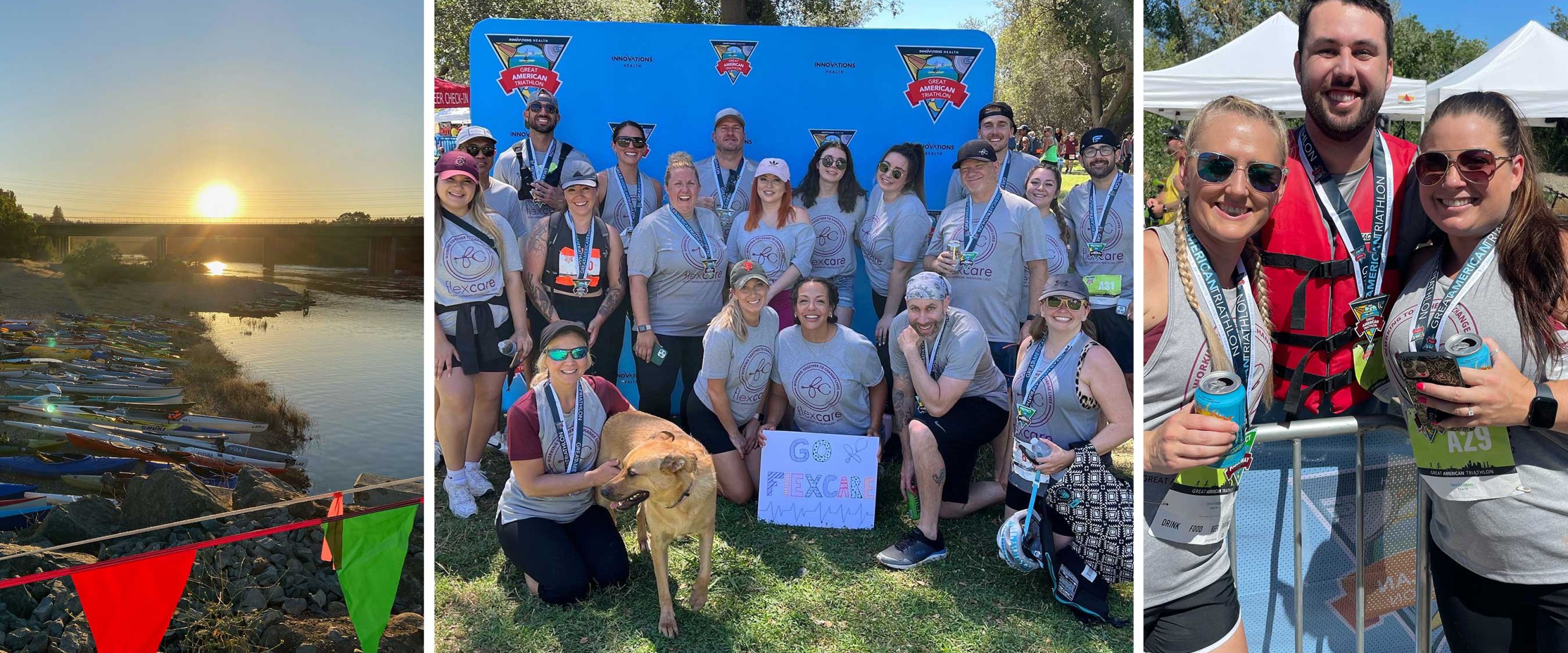 Championing Health, Fitness, and Unity Through an Iconic Sacramento Sporting Event
In the heart of Sacramento, CA, where the American and Sacramento rivers converge, an annual event unfolds every summer that has come to epitomize endurance, camaraderie, and the spirit of community. This is the Great American Triathlon, a spectacle that brings together athletes and enthusiasts from all walks of life, united by their passion for fitness and a shared commitment to challenging their personal best.  
FlexCare Medical Staffing, a leading healthcare staffing agency, has actively participated in and supported this inspiring event for years. With our deep roots in the Sacramento area and an unwavering commitment to health and wellness, our association with the Great American Triathlon is more than just sponsorship – it's a symbol of our commitment to the community and the spirit of unity.  
About GAT
The Great American Triathlon, formally Eppie's Great Race, is the "world's oldest triathlon" and is no ordinary event. Taking place along the American River Parkway, it features a scenic downriver 5.82-mile run, a 12.4-mile bike ride, and a thrilling 6.10-mile kayak paddle; each segment is designed to push participants to their limits while showcasing some of Sacramento's most picturesque landscapes. The event, beloved by Californians and out-of-state visitors alike, is a testament to the human spirit's resilience and determination.   
Calling All Healthcare Travelers
In line with our ongoing efforts to promote health and wellness in our community, we are thrilled to announce that this year, FlexCare Medical Staffing will cover the Great American Triathlon 2023 registration fees for any travel nurses, allied clinicians, or therapists in the Greater Sacramento area who are interested in participating.  
By encouraging participation in such events, we can foster a culture of health and fitness beyond the walls of the hospitals and clinics where healthcare professionals serve. This initiative also provides an excellent opportunity for healthcare travelers to connect with the local community, meet fellow travelers, and experience the scenic beauty of Sacramento. Participating in the Great American Triathlon is not just about physical endurance; it's about building relationships, fostering community spirit, and enjoying the camaraderie that comes from shared experiences.  
FlexCare's participation in the Great American Triathlon reflects our mission to improve lives and the foundation of healthcare. We believe in the power of community engagement and the positive impact that physical fitness can have on overall health and well-being. By supporting our team in this endeavor, we aim to inspire others to take on challenges, explore their potential, and strive for personal and professional growth.  
Join Team FlexCare at GAT
This year's event will be held on Saturday, July 15, 2023. If you're a healthcare traveler in the Greater Sacramento area and you've ever considered participating in a triathlon, this is your chance. Join us at the Great American Triathlon and become part of a tradition that embodies the spirit of endurance, community, and passion for health. Together, we can make a difference, push our limits, and experience the thrill and fulfillment of such an incredible feat. 
Your participation options include: 
Relay: Interested in participating in one leg of the race? Join FlexCare and run, paddle, or bike your way to the finish line: 
FlexCare Paired: Join FlexCare and be matched with two other travelers or FlexCare staff to form a 3-person relay team.  
Create Your Own: Know two other healthcare travelers that you'd like to participate with? Create your own 3-person relay team and join FlexCare! 
Ironperson: For those who want to complete all three legs of the race, join the FlexCare team, and we'll be there alongside you, cheering you on. 
Remember, the journey of a thousand miles begins with a single step. Let that step be the Great American Triathlon, and let FlexCare Medical Staffing be your partner on this journey. Together, we can conquer the challenge, celebrate our victories, and contribute to the enduring spirit of our vibrant community.