Healthcare Heroes Award: FlexCare Assignment Ace Learns and Inspires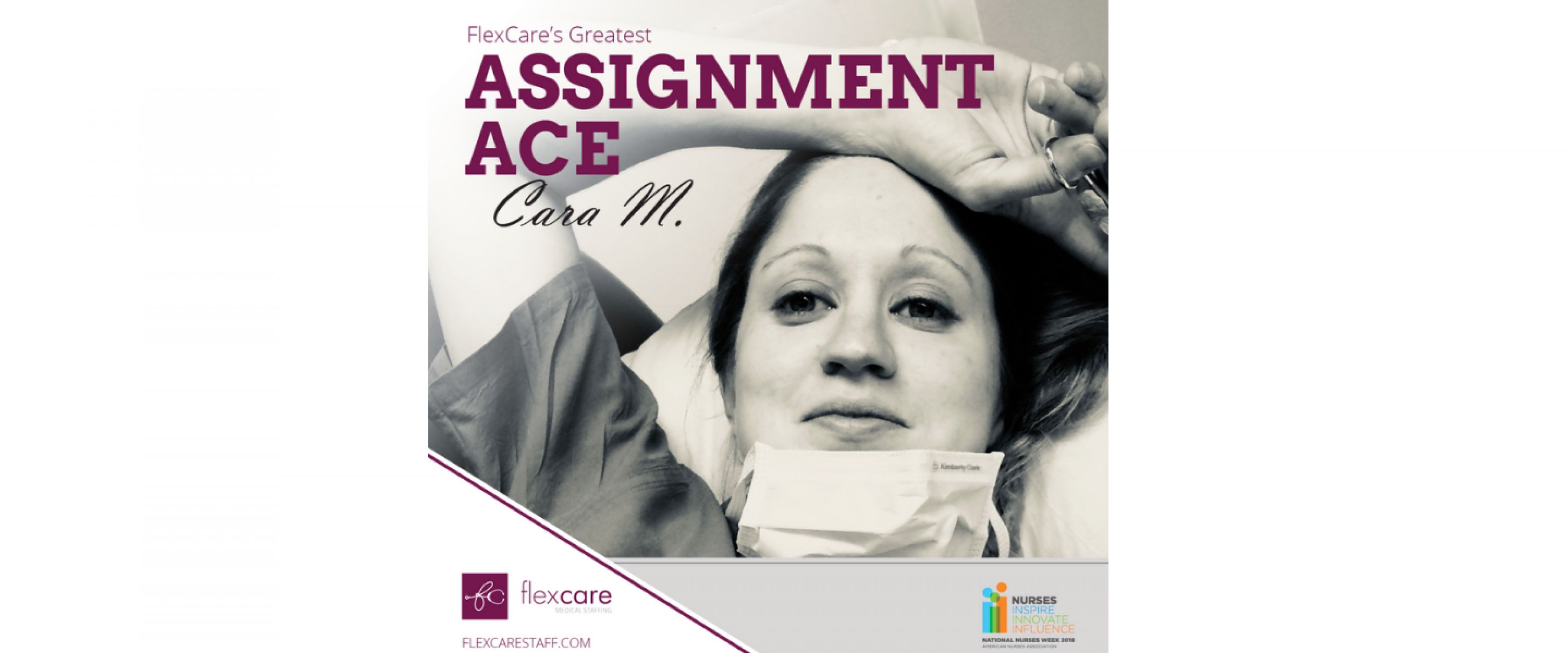 The FlexCare Healthcare Hero Awards recognize and celebrate those healthcare professionals who stand out as exceptional FlexCare travelers. The Greatest Assignment Ace is a FlexCare nurse who has successfully completed the most assignments and done so with the utmost professionalism.
As FlexCare's Greatest Assignment Ace, Cara is an assignment superstar – not only because she's done more assignments than any other FlexCare nurse - 25 since 2012 - but  because she uses each as a learning opportunity. "I have learned so many new ways of doing things, and made so many new friends along the way," said Cara.
Growing up in rural North Carolina, there were few opportunities for women to make enough money to break out of poverty. As a result, prior to becoming a nurse, Cara held down several jobs to make ends meet, including waitressing, telemarketing, and retail. But she knew she needed a more viable career to provide for herself financially. After becoming a nurse, she was able to afford to purchase her first home. "Nursing has had a huge impact on my life," said Cara. "I love being able to make a real impact on other people's health and quality of life as well."
We asked Cara to provide additional insight into her life as a traveler, and in true Assignment Ace fashion, she gave some great advice.
FC: What do you love most about being a travel nurse?
"Being able to see new places is definitely the best thing about being a travel nurse! Since starting my traveling career, I have taken assignments in North Carolina, Florida, Virginia, Colorado, Nebraska, Alaska, Oregon, Washington, and California. Being able to explore has been amazing, and my friends and family from back home often tell me that they live vicariously through my travels."
FC: What advice would you give someone considering becoming a travel nurse?
"If you can travel, do it. Many people wait until they are retired to begin traveling the country. I love that my profession allows me to see the world right now! If you've always wanted to see the Grand Canyon or the Mojave Desert, then why not immerse yourself in a total 13-week experience there and get paid to do so? Travel nursing is a great way to dip your toe into an area you'd like to live in or to be closer to a loved one during a time of need. Not only is there more flexibility in choosing where you live, there is more flexibility with being able to plan time off without management picking and choosing dates for you. As travel nurses we can focus on our job and our patients without getting sucked into a political vortex that goes with being a staff RN. The extra money is just a bonus!"
As our Greatest Assignment Ace award winner, Cara will receive a new Apple Watch Series 3.
Great job, Cara! Here's hoping you enjoy many more FlexCare adventures!