Laura and Tommy: Making the Most of Life as a Travel Nurse Team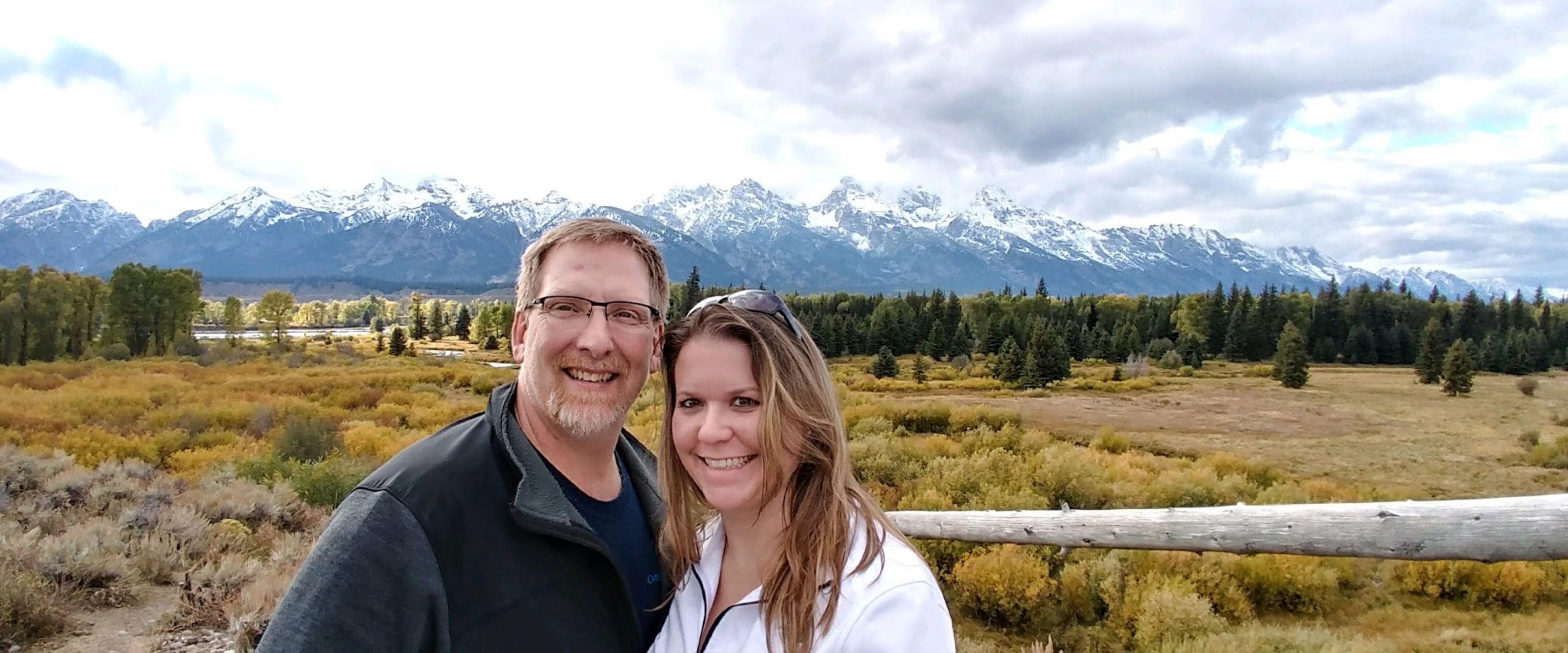 Travel Nurses Laura and Tommy
Meet Laura and Tommy – and their adorable dog Meatball – a team of travel nurses who met while working at a Level 1 Trauma Center. Three years ago they decided to become a travel team with FlexCare Medical Staffing, so we asked this dynamic duo a few questions about their experience as travel nurses and they generously offered to share their story. To read about their life together is to better understand the adventures and opportunities that await those who truly embrace the travel life. We're in awe and also a bit envious. 
Why did you decide to become a travel nurse?
Tommy: I was a charge nurse in a Level I Trauma Center where Laura and I worked together. I had worked for the corporate group for over 20 years and was considered a "lifer." I was very comfortable in my role and I felt I was competent at all roles I was asked to perform. While teaching our annual OSHA disaster preparedness in-service class to all the staff in the department, I just didn't feel like there was an end game. I started asking myself, "Where was I going?" Sure, management might have been an option, but what else? A couple of events made me re-evaluate my path, and I thought that maybe a change was in order. 
I was getting a divorce, my children were growing up into young adults, and I just hadn't seen much of the world. Laura had mentioned traveling a time or two and I was the one who finally bit the bullet and turned in my notice on Christmas Day 2014. Together, Laura and I got on the road in an awesome RV.
Laura: Tommy and I have very different reasons for beginning travel nursing. My reasoning initially was solely financial.  As a full-time nurse with a significant amount of student loans (loans from Roanoke College for my first degree in Criminal Justice and Sociology plus my loans from George Mason University for my BSN in nursing), I was treading water so I had to pick up a PRN position as an RN at the regional jail near home to help make ends meet. I had several friends who had started travel nursing and had ranted and raved about the income. When Tommy and I started dating, we talked about all the different ways he could help get me out of debt and get ahead. In our conversations, travel nursing came up multiple times–not only would I have the possibility of getting out of debt, but we would also be able to travel and see the country!
What are the benefits of traveling in an RV?
Tommy: I never have to unpack! I never have to worry about who slept in that bed or about packing up all my stuff. I never have to take the time or the energy to find an Airbnb, apartments, or rooms to rent. I sleep in my bed with my own bathroom; sit on my couch in my living room … you get my point … it's my homey RV! I honestly can't imagine doing it another way.  
With an RV, you're given the freedom to get up and explore anything and everything all over the nation. I never would have thought that I would or could see and do all the things we have seen and done in the last three years with so many special places, people, sights, and adventures. Writing this and looking back, it's just amazing.
Tell us about your dog, Meatball.
Laura: Meatball is everything to me and we've become pretty inseparable. He is my protector and – besides Tommy – my best friend. We have been through so much together and now he gets to join us on our travels. He loves riding in the truck, going on hikes, and has been adventuring with us in many states. He loves swimming to chase after his bone or a stick, but hates being wet. His blue bone is his security blanket that he takes it everywhere with him. There have been times we have had to chase the bone several miles down a river in order to retrieve it for him. Meatball is definitely unique and I love him!
What do you do in your free time?
Tommy: Go on adventures. There have been many times we have said to each other, "Let's just go do something," and we end up three hours from home in some national park or brewery or something and we have the most amazing adventures. We routinely miss an exit while we're talking in the truck. Once we realize what we have done (again), we usually just look at each other and laugh – it has become sort of a legend with us. Laura and I rarely listen to the radio while going to our next nursing assignment or driving somewhere. We just talk about our day, our shift, and our dreams. It's what our life has become and we're enjoying it to the fullest.
Tell us about a unique experience you have had while traveling.
Tommy: I bought my truck used while we were on assignment in Texas (which happened to be our first nursing assignment) and immediately fell in love with it. We were on our way to Arizona for our next nursing assignment and broke down in Oklahoma. The truck wasn't immobilized, but wouldn't get us to our destination without significant repairs. We pulled off the Interstate and went up the exit road and felt like we were in the middle of nowhere. We had a tight timeline to get to Arizona, but as fate would have it, we pulled off the road just one house down from a fellow who was a diesel mechanic at a local truck shop. He comes walking out to us with his blue jeans, his work shirt, and baseball hat on and says, "You folks need some help?" It was the best thing I had heard all day! Stephen took us 15 miles to the nearest town and talked with his buddies at the parts shop. They figured out a work around, helped us get repairs done, and got us back on the road within a couple of hours. Stephen turned our worst scenario into an event that has helped repair my hope that there are still good people out there. 
Laura: Because we have seen and done many things in the past three years, Tommy had his work cut out for him to find a unique and meaningful place to propose to me. On April 15, 2017, we took a drive up to Yosemite National Park. We had already been to the park on several occasions and had a fantastic time. We didn't have a full day to hike, so Tommy suggested we take the dog and do the paved loop around the base/lower section of park. When we arrived, it was free entrance to the park day and it was packed. We were in stop-and-go traffic for miles. Since we had been there before, I knew we were within walking distance of where he wanted to start our hike. There were places to pull off the road, so I suggested we just park there and walk the rest of the way.  He agreed, and we started walking past the long line of stopped traffic. He was walking further behind me than normal, but I didn't think much of it. We walked across one of the bridges to an open field below Yosemite Falls.  The next thing I knew, he was on one knee proposing to me. It was absolutely amazing, and I just kept repeating "What the hell? What the hell?" I didn't know what to say!!  I was in complete shock!  I think the best part about it was he had a photographer set up to take pictures of the actual moment and to take pictures of us after!! It was unforgettable! 
What sacrifices have you made as travelers?
Laura: The biggest sacrifice for me is being away from my family – sometimes it's the hardest. Luckily, with FaceTime and video chat we can talk, see each other, and keep in touch. However, not being there for birthdays, the sad times, or even for special events like my younger sister delivering her first child makes being so far away from home extremely difficult.
What advice would you give someone who is considering travel nursing?
Tommy: You need to be fluid. There are many things that can happen while you are a traveler – things you'll have to adapt to on the fly. When there is something you are uncomfortable with, make sure to speak up for yourself and your license. It's also important to understand that the way you learned how to do something isn't the only way it can be done and always be willing to learn from others. Plus, when there are practices your colleagues are trying to show you that seem dangerous or unsafe, never feel like you can't report those. You are responsible for your own license and no one cares for your license as much as you do.
Laura: My biggest advice would be to stand up for yourself and protect your license. If something feels wrong, it probably is.  But on the other hand, there is more than one way to do something to achieve the same results.  Travel nursing can be very fast paced so be willing to learn and adapt quickly.
What is the one thing you cannot live without as a traveler?
Laura: A mobile camera – I am not huge on lugging around a bulky camera everywhere we go, but I always have to have my cell phone charged and ready to go. I have gotten really good at taking scenic pictures from the car while we're driving!
What is the most important thing you want people to know about your life as travel nurses?
Tommy: Live your life – I feel like I am living the life now that I could not have ever imagined for myself. The freedom to go places and see the things this country has to offer – it's incredible. I've made lifetime friends across the country. I would have never had that if I had never gone into travel nursing and I've never once regretted the decision. I've learned so much about myself, my practice, the practice of nursing and how it differs all over the country. Travel definitely has made me a more complete person.  
Laura: LIVE YOUR LIFE!! Through travel nursing, we have been able to see and do things we could only imagine. I never used to fantasize about traveling or where I was going to go because financially I NEVER thought I would be able to see or do anywhere close to the number of things we have been able to see and do. We have turned into YES people. Now we find something we want to do, and we find a way to make it happen. Life is short and you should live it with no regrets. If you aren't happy with something in your life, make a change. Leaving the comfort of our full-time jobs was one of the best decisions we have ever made. And the best part, we get to do it together! 
***
Laura, Tommy, and Meatball show no signs of slowing down their travel nursing career. We're happy that, together as a travel nursing team, they were able to reenergize their passion for nursing and find a new passion together as they travel across the country. Will they ever go back to being staff nurses? One should never say never, but they are certainly living a beautiful life!