Healthcare Heroes 2019: Sharing the Travel Nurse Experience With Others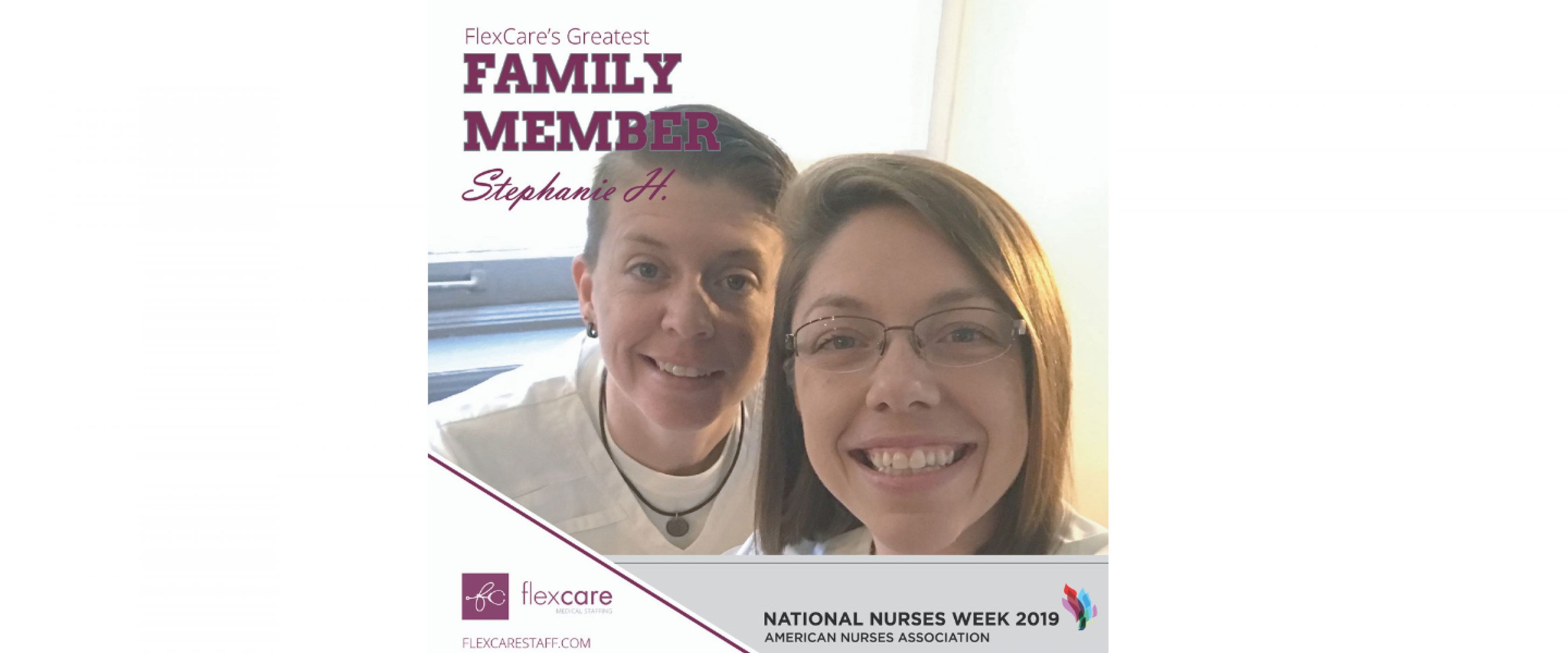 Travel Nurse and CVICU RN, Stephanie - Greatest Family Member
At FlexCare, we believe there's no better way to encourage nurses to choose a career as a travel nurse than through a referral. Stephanie (shown here on the right), a CVICU RN from Florida, is being honored as FlexCare's 2019 Greatest Family Member for sending her recruiter the most completed referrals for 2018.
Stephanie's experience with FlexCare gives her unique insights that she enthusiastically shares with others. She understands what it's like to work with FlexCare and provides colleagues with a realistic and positive assessment of the process involved in becoming a traveler. 
If you follow FlexCare on social media, you may have seen Stephanie before. In July 2018, Stephanie and her wife, Amanda, also a travel nurse, were our featured Tuesday Travelers. They love exploring new places, hiking, going to shows like Cirque du Soleil, and they have an affinity for pizza and wine.
"Stephanie is very passionate about her work and patient care."  Kristin McKnight, Executive Recruiter
We asked Stephanie a few questions about her life as a nurse. She was gracious enough to pass along some valuable information.
Q&A with Stephanie on her Life as a Travel Nurse
What's one thing you enjoy most about being a travel nurse?
"Travel nursing has given me the ability to experience cities in a way I never would have as a full-time staff nurse. Prior to being travel nurses, my wife and I would go on mini vacations throughout the year, but there's only so many things we could do in a long weekend. Spending 13 weeks in a city allows us to really dive in. We get to check out the local spots, learn the history and culture, and even travel to the outlying cities."
What attracted you to nursing?
"I've always been a natural caretaker. I also love people and learning new things. Nursing just felt natural. Over the course of my career I've been able to witness and implement medical advancements that have improved people's quality of life. I can't think of a more rewarding career."
What's one piece of advice you would give new nurses?
"Ask questions and learn your resources. I've been a nurse for 15 years and I still ask questions. You're not expected to know it all so don't get down on yourself if you're asked something and don't know the answer. It's more important to learn where to find the answer."