Meet with FlexCare at TravCon 2023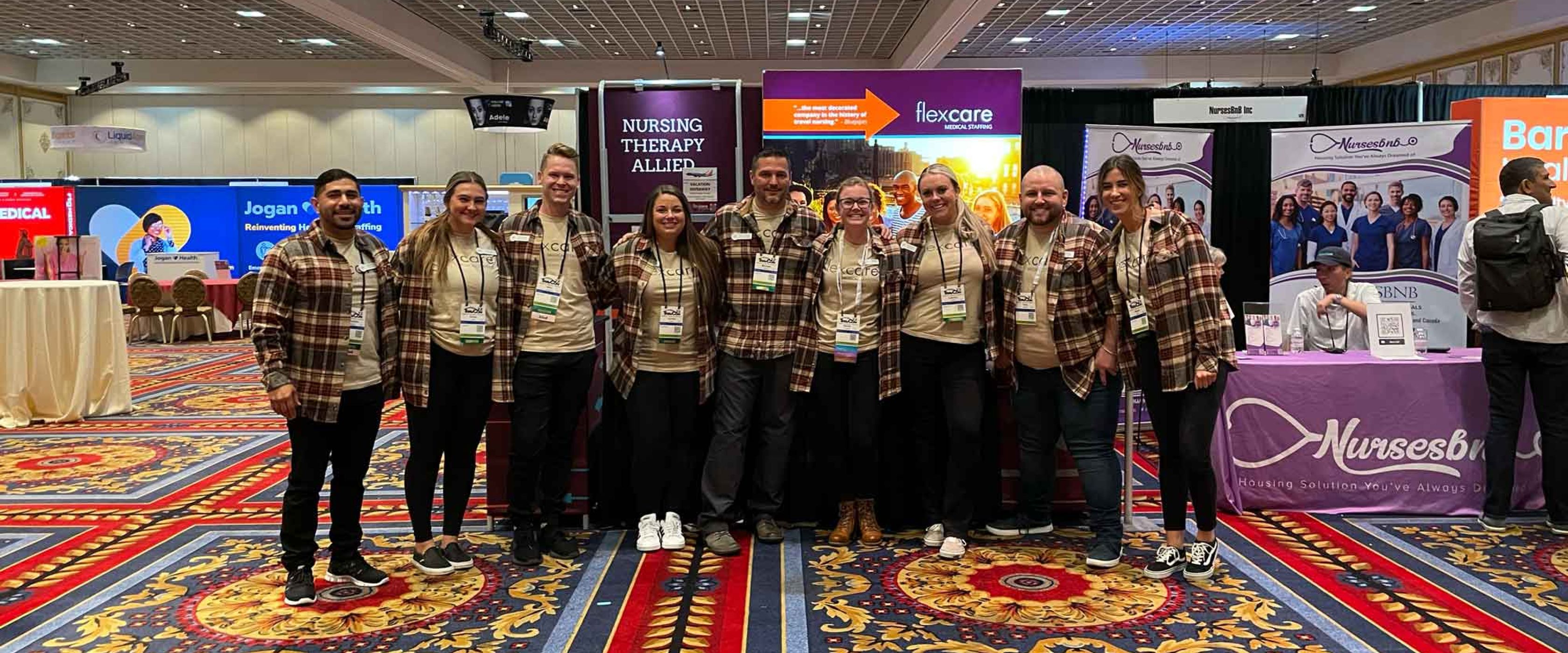 Unlocking Opportunities, Expert Insights, and Memorable Connections 
It's that exciting time of the year again! TravCon – the nation's largest conference explicitly dedicated to traveling healthcare professionals – is right around the corner. Whether you're a seasoned healthcare traveler or just dipping your toes into travel nursing, allied health, or therapy, TravCon offers various opportunities to learn, network, and grow in your profession.  
And here's the best part: FlexCare will be there, and we can't wait to meet you at Booth #328!
Why Visit FlexCare at TravCon?
For those who may be new to the healthcare traveling community, FlexCare is a leader in the travel healthcare staffing industry. Our reputation is built on our commitment to healthcare providers, ensuring you find your dream assignment. Here are a few reasons why you should stop by our booth:  
Expertise and Insights: With years of experience in healthcare staffing, our team has invaluable insights into the industry's trends, challenges, and opportunities. Whether you're looking for advice on your next assignment or curious about the emerging areas in healthcare traveling, our team is here to guide you.  
Networking: Our team at FlexCare is not just about helping you find the next job; we believe in building lasting relationships. When you stop by Booth #328, you're not just another face in the crowd – you're a potential member of the FlexCare family.  
Cool Swag and Giveaways: Let's face it, who doesn't love freebies? And at FlexCare, we believe in doing it right. Drop by, and you might just walk away with some of the coolest merch in the hall.  
The FlexCare 360 Experience: Haven't had a chance to dive into the new FlexCare 360 mobile app? FlexCare recruiters are experts and will be there to help get you set up in the industry-leading app.  
What to Expect from TravCon?
As a first-timer, you may not know that TravCon is more than just a professional gathering; it's a fully immersive experience. With sessions led by industry leaders, networking events, and an expo hall filled with organizations and service providers catering specifically to healthcare travelers, you're bound to leave with a wealth of knowledge and connections.
Here are some quick tips to make the most of your TravCon experience:  
Plan Ahead: Look at the conference schedule and highlight sessions or speakers you want to attend. It will help you manage your time effectively.  
Engage in Discussions: The beauty of TravCon lies in its community. Engage with fellow travelers, share your experiences, and ask questions.  
Visit the Expo Hall: Beyond FlexCare's Booth #328, the expo hall will feature dozens of companies, each offering unique services and opportunities. It's a great place to understand the breadth of the industry.  
Stay Social: Use the official #TravCon2023 hashtag on your social media posts and engage with other attendees online. It's a fun way to document your experience and connect with peers.  
In conclusion, TravCon is shaping up to be another remarkable event for the healthcare traveling community, and we at FlexCare are thrilled to be a part of it. So, mark your calendar, prep your conference checklist, and ensure a visit to Booth #328 is on your itinerary.  
We look forward to seeing you there! Safe travels, and stay inspired.