Top 10 Mobile Apps for Healthcare Travelers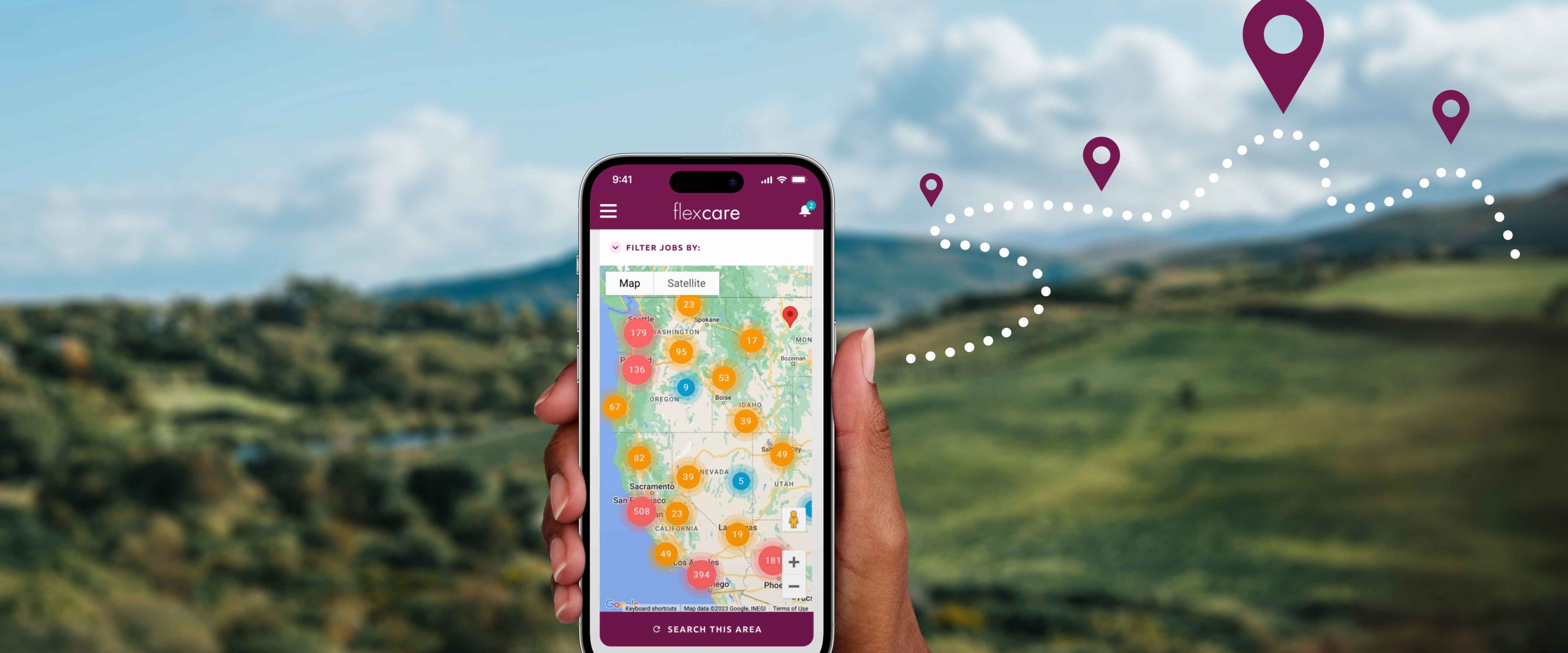 The Ultimate Guide to Optimizing Your Digital Sidekick
In today's fast-paced world, healthcare travelers need efficient and reliable tools to manage their assignments, communicate with recruiters, and take control of their personal and professional lives. We've rounded up the top 10 mobile apps that help healthcare travelers navigate their unique lifestyle. Leading the list is FlexCare's own revolutionary mobile app, FlexCare 360. 
FlexCare 360: Unparalleled Pay Transparency, Speed, and Efficiency
FlexCare 360 is not just an app; it's your comprehensive partner in healthcare travel. From priority access to premier jobs to offering unparalleled pay transparency, this app has redefined healthcare staffing. FlexCare 360 provides advanced job matching, access to FlexCare exclusive job listings, real-time updates on job applications and assignments, direct communication with your recruiter, and an intuitive resource portal to manage all your compliance and HR needs. Download it today on the App Store or Google Play and experience the next level in healthcare staffing. What users say about it is proof enough – it's not just efficient but revolutionary. 
Other Must-Have Apps for Healthcare Travelers
GasBuddy: Fuel Savings on the Go 
For healthcare travelers, the journey between assignments can increase fuel costs. GasBuddy helps you find the cheapest gas prices near you, saving your wallet every time you refuel. 
Furnished Finder: Find Your Temporary Home 
Comfortable accommodations are essential to a successful assignment. Furnished Finder connects traveling healthcare professionals with landlords offering furnished housing options, making it easy for users to find and secure comfortable, short-term accommodations across the country. 
MyFitnessPal: Stay Healthy on the Move 
Healthcare professionals know the importance of keeping fit, and MyFitnessPal makes tracking your nutrition and exercise easier, even with a busy schedule. 
Calm: Mindfulness for Stressful Days 
Being a healthcare traveler can be stressful. Calm provides guided meditation and mindfulness practices that can help you decompress after a challenging day at work. 
TripIt: Travel Organizer 
TripIt consolidates all your travel plans into one itinerary, which is accessible even offline. Perfect for healthcare travelers who are constantly on the move. 
Mint: Personal Finance Manager 
Mint helps you track your expenses, create budgets, and manage your bills. It is essential for healthcare travelers who want to keep their finances in order while moving from place to place. 
Duolingo: Learning Languages on the Go 
For healthcare travelers assigned to diverse locations, knowing a second language can be a significant advantage. Duolingo makes learning a new language fun and accessible. 
AllTrails: Explore Your Surroundings 
With assignments in new cities or scenic rural areas, AllTrails provides the best guides to local hikes and outdoor activities, helping you enjoy your days off to the fullest. 
MedVenture: Connect with Local Colleagues 
MedVenture connects healthcare professionals for networking, mentorship, and collaboration, enabling them to explore job opportunities, share knowledge, and advance their careers in the medical field. 
Being a healthcare traveler is incredibly rewarding, but it can also be challenging. With FlexCare 360 leading the charge, these mobile apps can significantly simplify various aspects of life on the road — from finding your next assignment to unwinding after a long day. Download these apps today to make the most of your healthcare travel adventure as you continue to provide incredible care for your patients, wherever the road takes you. 
Download FlexCare 360 from the App Store or Google Play today and redefine your healthcare traveling experience!
Elevate Your Travel Healthcare Journey with FlexCare
At FlexCare, our mission is to enrich the lives of everyone we touch by delivering the best healthcare staffing solutions with integrity and transparency. Our dedication is recognized by renowned industry leaders like BluePipes, Staffing Industry Analysts, and Travel Nursing Central who consistently acclaim FlexCare as a top-tier healthcare staffing company. 
The FlexCare Difference 
FlexCare was created with the vision of enhancing the healthcare staffing process for both clinicians and healthcare facilities. Over the years, FlexCare has steadfastly embraced fundamental pillars that reinforce this aim, incorporating our 'High-Pay, Hassle-Free' ethos, our unique S1NGLEPOINT Recruiter model, and our in-house travel career management tool, the FlexCare 360 mobile app. 
The 'High-Pay, Hassle-Free' Philosophy 
The core of FlexCare's "High-Pay, Hassle-Free" approach is our conviction that healthcare professionals deserve the highest possible compensation for an assignment without the necessity for negotiation. We maintain transparency with clinicians when proposing offers and ensure that every compensation package is meticulously scrutinized with our travelers before they apply for jobs, equipping them with the necessary information to make decisions that will support their travel career goals. 
Uniquely, our recruiters earn a fixed fee for each successful placement of eligible clinicians. If the facilities increase their rates, the pay rise goes directly to the clinicians, not our recruiters. This is an unorthodox model in the travel healthcare staffing industry, but we believe that it fosters genuine relationships with our travelers and ensures our recruiters are solely driven by aligning travelers with their ideal assignments. 
The S1NGLEPOINT Recruiters 
With the understanding of the value of our travelers' time, we strive to streamline their journey with our S1NGLEPOINT Recruiter model. This allows clinicians to deal with a single point of contact for all aspects of their travel career, thereby eliminating the need to juggle interactions with various departments such as Compliance, Payroll, and Housing.