Iconic Women Nurses You Need to Know
Honoring Nurses for Women's History Month
Nurses are among the most critical healthcare professionals, providing high-quality patient care and medical expertise while maintaining empathy, effective communication, and critical thinking skills. With the U.S. Bureau of Labor Statistics reporting nearly 87% of registered nurses are female, it's impossible to ignore the impact women have had on the evolution of nursing as we know it.
 
In honor of Women's History Month, we will explore the lives and legacies of four famous female nurses who left their mark on the history of nursing.
Florence Nightingale
Florence Nightingale was perhaps one of the world's first travel nurses and played an integral role in building the foundation of modern healthcare. While she wasn't travel nursing as we know it today, she and 38 volunteer nurses traveled to Scutari during the Crimean War to fill the need for improved healthcare conditions. She was a stark advocate for patient rights and developed sanitation standards that drastically improved medical conditions, reducing the hospital's death rate by two-thirds.
Her innovations and methods were quickly adopted across Britain, immediately affecting the quality of patient care. In 1860 after she returned home from the war, Florence opened the world's first nursing school, the Nightingale Training School for Nurses, and wrote the first nursing textbook, Notes on Nursing.  
Sources: History History of Information Florence Nightingale: The Mother of Nursing 
Image: National Portrait Gallery, London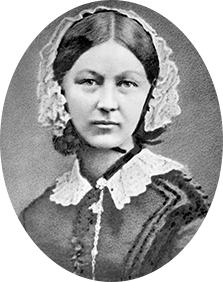 Clara Barton
The founder of the American Red Cross, Clara Barton, was known as the "Angel of the Battlefield" during her time in the Civil War. In 1861, she quit her job as a copyist and committed to delivering medical supplies to Union Soldiers. After years of tending to wounded men on the battlefield, she was officially named Head Nurse in 1864 for General Benjamin Butler's units.
Along with her nursing duties, she assisted in preparing enslaved people for freedom, locating missing soldiers, and marking graves after the war concluded. In 1869, as Barton traveled through Europe, she was introduced to the Red Cross and spent years working alongside them, providing aid through the Franco-Prussian War. Upon her return to the United States, she founded the American Red Cross in 1881 and served as its leader for over 23 years.   
Sources: Women's History Red Cross
Image: American Red Cross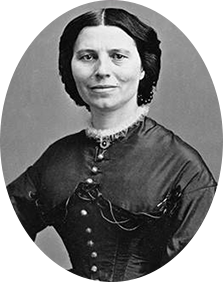 Florence G. Blake
A revolutionary in pediatric nursing, Florence G. Blake graduated as a nurse in 1928 from the Michael Reese Hospital School of Nursing in Chicago. She spent years teaching and training at prestigious colleges, including three years in China, where she became dedicated to developing advanced nursing education programs.
Blake later established an advanced pediatric nursing program at the University of Chicago. She taught for 13 years, penning text that would be integral to the development of pediatric care, including Essentials of Pediatrics and The Child, his Parents, and the Nurse. 
Photo: OOPAN 
Anna Maxwell
Anna Maxwell revolutionized military nursing in America and became known as the "American Florence Nightingale." During the Spanish-American war, she traveled to Georgia, where she supervised the camp hospital. She oversaw nearly 1,000 patients admitted to her camp with diseases such as typhoid, yellow fever, or malaria; however, less than 70 soldiers died under Maxwell's watch. Furthermore, her experience in the field led her to become a fierce advocate for military nurses, eventually resulting in the creation of the Army Nurse Corps.  
Source: Health Matters Arlington Cemetary 
Image: Columbia University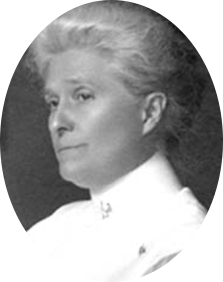 Thank You, Female Nurses!
While these four women helped pave the way for modern-day nursing, thousands of others have impacted healthcare and changed the standard of care for patients nationwide. Today and every day, we honor female nurses and everything they do to better their patients' lives.
To read more about revolutionary individuals, check out our blog post on 5 Black Healthcare Professionals that Changed the Trajectory of American Healthcare.