FlexCare 360 – A Revolutionary New Mobile App for Clinicians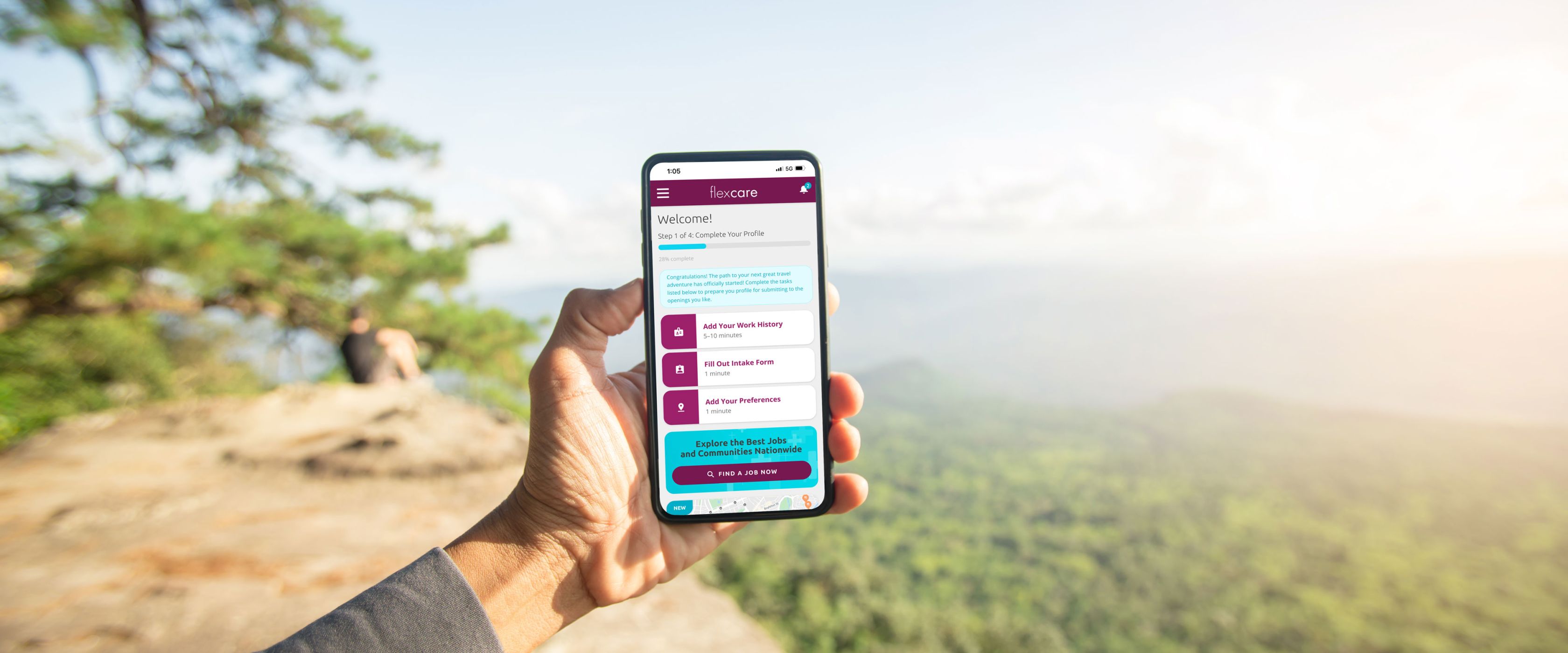 Unparalleled Pay Transparency, Speed, and Efficiency in Your Hands
At FlexCare Medical Staffing, we have always been committed to delivering the best experience to all our clinicians. With that goal in mind, we are thrilled to announce the launch of our new mobile app: FlexCare 360. FlexCare created this ground-breaking technology to provide priority access to premier jobs, unparalleled pay transparency, streamlined user experience, and offer clinicians a customizable and interactive platform to engage with their recruiter more efficiently.
Pay Transparency and Speed to Market
FlexCare 360 stands head and shoulders above the competition with its unwavering commitment to pay transparency. In line with our High-Pay, Hassle-Free philosophy, users will see a pay package and can trust that it remains unchanged, even after engaging with a recruiter. With FlexCare 360, what you see is what you get. No gimmicks, sales tricks, or negotiation are needed for the pay rate you deserve.  
Another key advantage of FlexCare 360 is its speed to market. Our proprietary technology works tirelessly in the background, securing the latest job listings and details from hospitals and healthcare facilities as soon as they are released. In the blink of an eye, these opportunities are available on the FlexCare 360 mobile app, giving clinicians the power to be among the first to apply. As you've probably heard from recruiters, time kills all opportunities, but with FlexCare 360, we've solved that puzzle!  
Key FlexCare 360 Features
Intuitive Job Board
We were among the first to integrate Google Maps into our job board, providing clinicians with rich, location-based information to aid their decision-making process.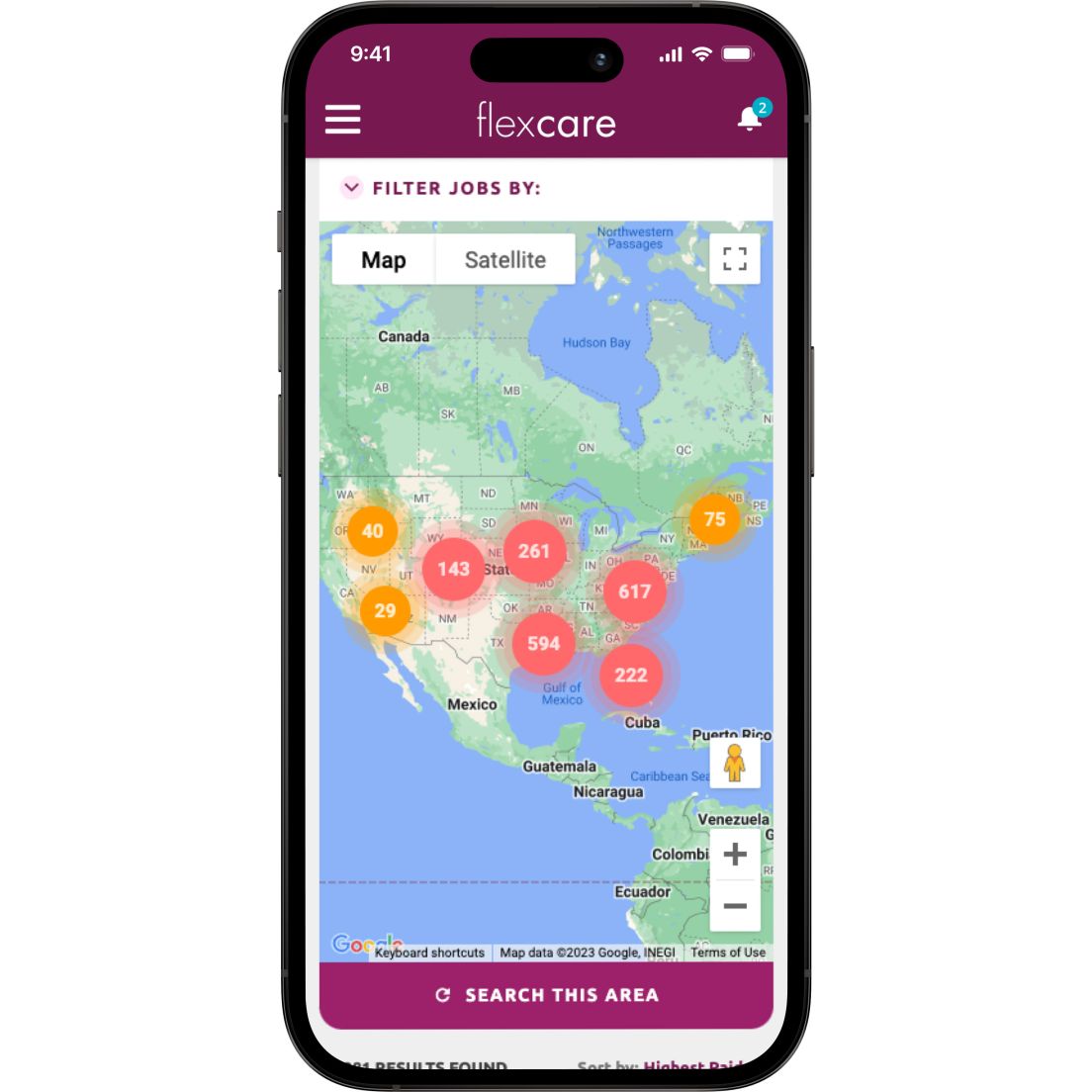 Exclusive Jobs
Thanks to our robust contracts and relationships with some of the nation's most prestigious facilities, FlexCare can offer exclusive job opportunities to our clinicians before any other agency.
Application Tracking
FlexCare 360 offers real-time tracking of applications, a game-changing feature that provides clarity and transparency to the submission process.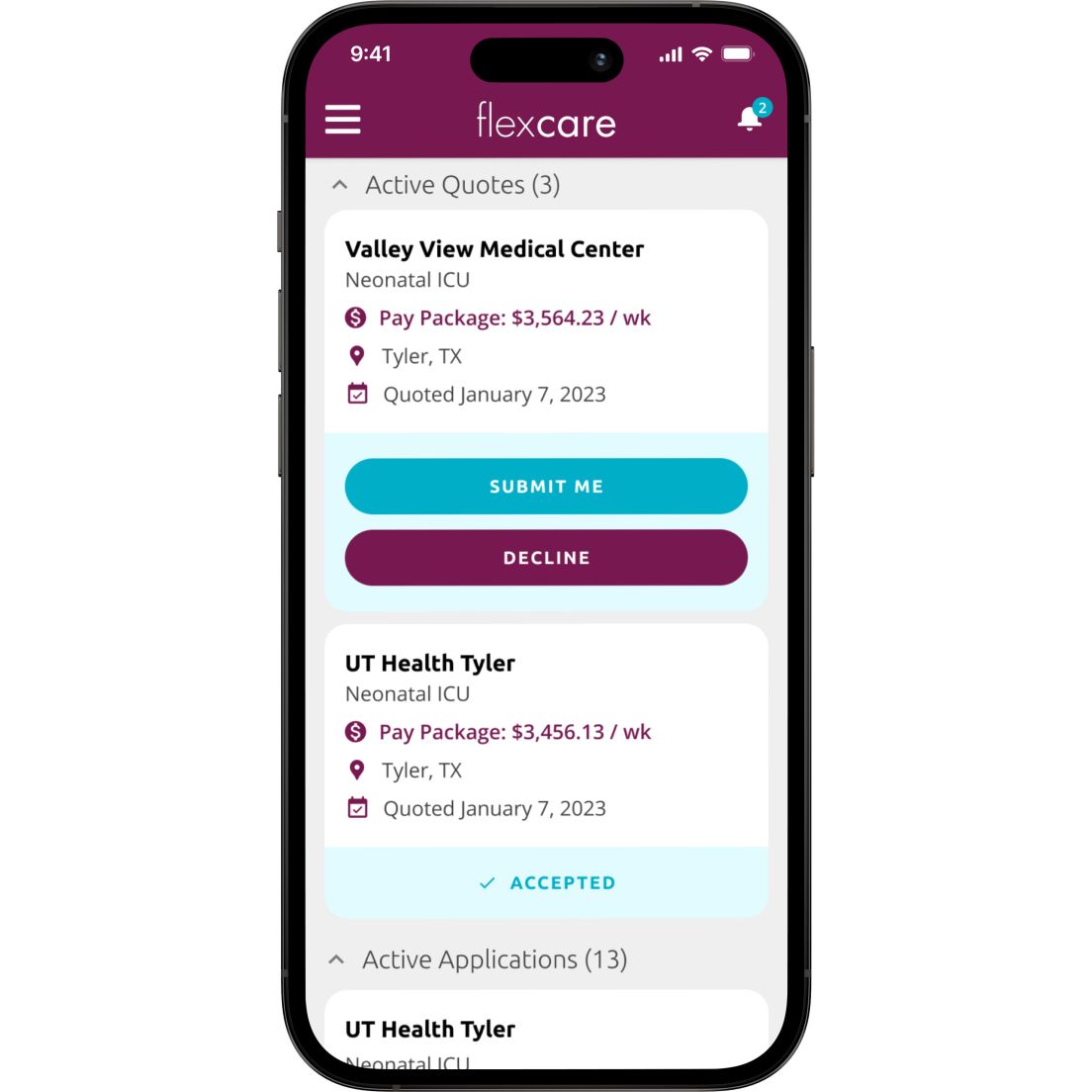 Recruiter Connection
Maintain direct communication with your recruiter with our in-app messaging. You can now connect directly with your recruiter without ever having to leave the app!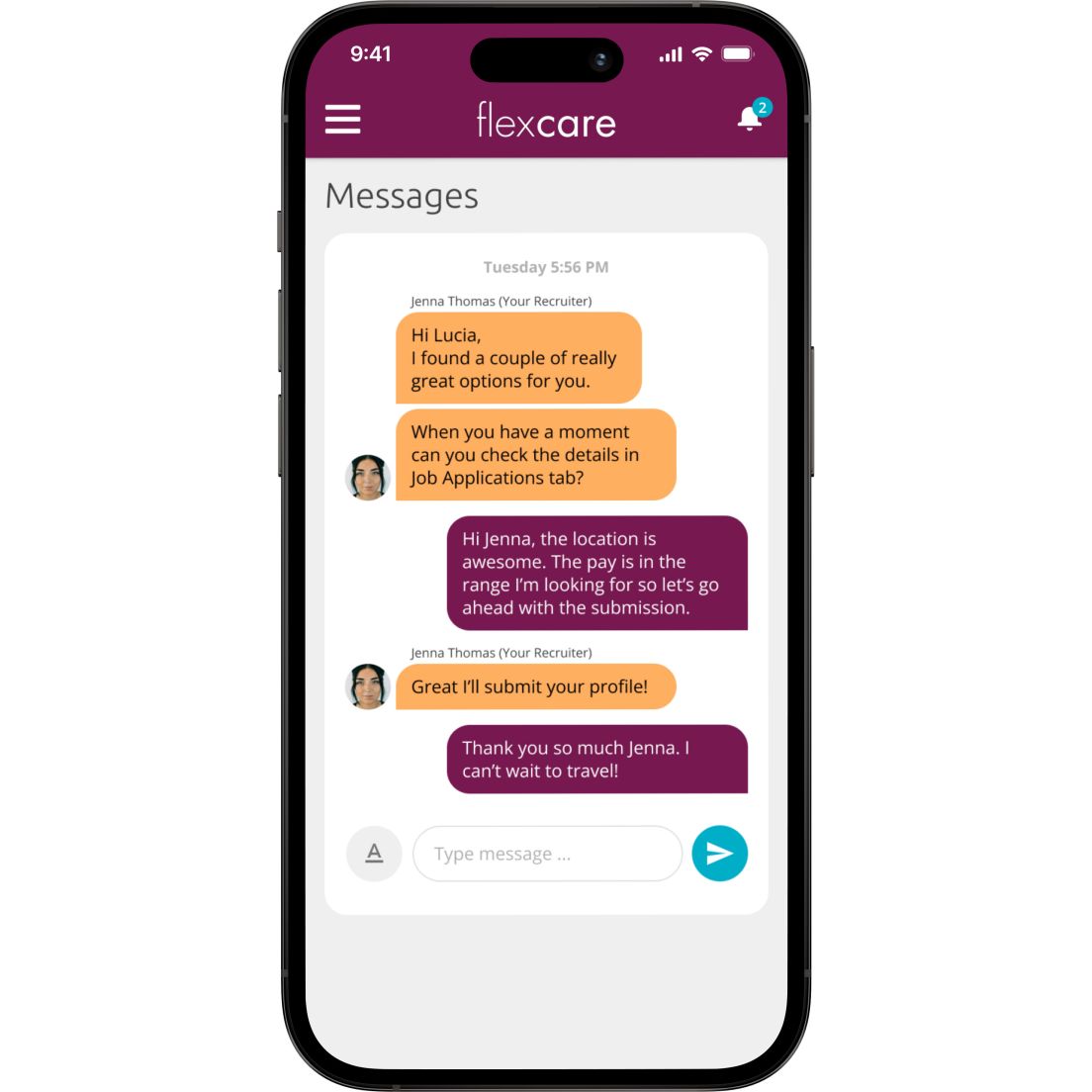 Additional FlexCare 360 Features:
Resource Portal: This all-in-one hub houses all the 'extras' of employment - from skills assessments for landing just the right assignment to managing your 401K. This personalized feature ensures that all the HR resources you need are available in one simple click. 
Advanced Job Matching: Our intricate matching algorithms prioritize the needs and preferences of our clinicians. The goal is simple: deliver the right job, at the right time, in the right location, and for the right pay.  
Profile Builder: With a user-centric approach, our unique profile-building technology ensures an intuitive and seamless experience for clinicians to document their work history and education. 
What Users Have to Say About FlexCare 360
"FlexCare 360 makes it so much easier to update my profile. Also, it gives details about the assignment, which is awesome! It gives you pay and not just a range, which takes a lot of guessing and extra work requesting all the info."  
"This app has made it so much easier to search for jobs and view pay packages that give you the exact breakdown in hourly pay/stipends. It tells you exactly where the facility is, and you can use this app to upload documents for compliance, which makes it so much easier. I can't recommend this app enough if you are a traveler!"  
"This app makes it SO easy to look at jobs and chat with my recruiter. It is the best!"  
"OMG. Thank you FlexCare, for this amazing app. I've used several other staffing company apps, but this is the first that feels like it's meant for me rather than them."