Bringing Joy and Respite to Kids in Treatment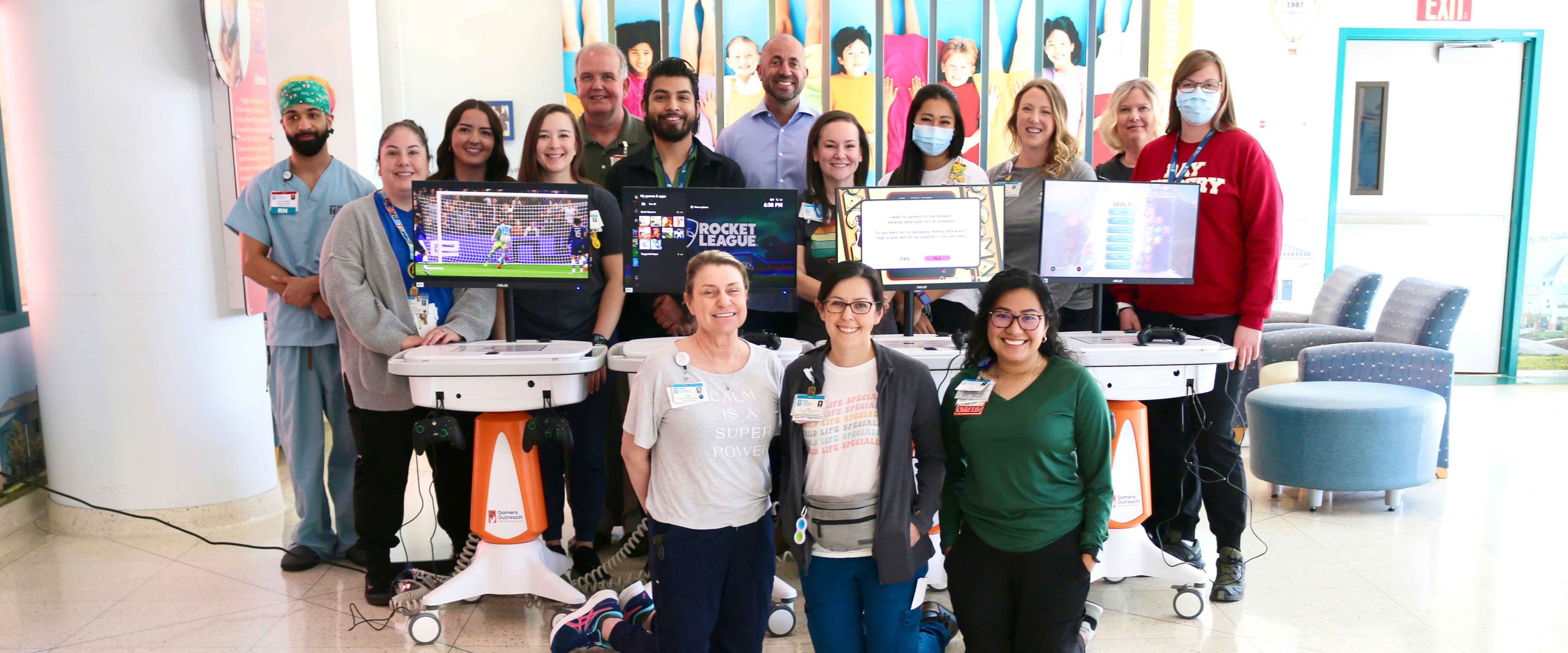 FlexCare Medical Staffing Donates Portable GO Karts to Valley Children's Hospital
Imagine being a child confined to a hospital bed, longing for a moment of escape and adventure. For young patients at Valley Children's Hospital, that moment of escape has just powered up! FlexCare Medical Staffing recently donated GO Karts, portable gaming stations created by Gamer's Outreach, to the hospital. This act of kindness is made on behalf of FlexCare travel nurses, allied clinicians, and therapists and will bring much-needed respite to the children receiving treatment at the hospital.  
Supporting Children Through Gaming  
Gamer's Outreach, a non-profit organization, created the GO Kart as a portable video game kiosk explicitly designed for use in hospitals. Equipped with the latest gaming consoles and various games, the GO Karts provide a much-needed distraction and means of relaxation for young patients during their hospital stay. By providing access to age-appropriate, engaging entertainment, the GO Karts help children cope with the challenges of their medical journey.  
A Token of Gratitude from FlexCare Medical Staffing  
The donation of the GO Karts to Valley Children's Hospital comes as a heartfelt gift on behalf of our healthcare clinicians. Our team recognizes the importance of supporting children in need and is committed to positively impacting their lives.  
Travis Mannon, FlexCare CEO, shared his thoughts on the donation and the company's gratitude for its healthcare professionals:   
"Our traveling clinicians are the backbone of FlexCare Medical Staffing. They work tirelessly to provide exceptional care to patients nationwide, and we are incredibly grateful for their dedication. We are honored to support the children at Valley Children's Hospital through this donation. It's a small way for us to provide an extra bit of joy and comfort to the children during their hospital stay."   
Marisa Ybarra Reyes, Supervisor of Child Life Services at Valley Children's Hospital, expressed her gratitude for the donation and highlighted the impact these GO Karts have on the patients:  
"Having these GO Karts available for patients to use during their hospitalization provides them with a distraction and sense of normalcy during a potentially stressful time. It is wonderful to see a kid's face light up when a gaming cart rolls into their room, and they can choose from various games to play. Because of the generosity of FlexCare Medical Staffing, we can provide this resource to more patients throughout the hospital."  
This donation, made possible by our healthcare clinicians' hard work and dedication, will help bring joy and comfort to young patients in need. We are grateful for the opportunity to support these children and positively impact their lives.   
Thank you, FlexCare Family 
Healthcare professionals are often asked to work long hours in stressful situations, which can take a toll on their physical and emotional well-being. Despite these challenges, FlexCare's traveling nurses, allied clinicians, and therapists continue showing remarkable dedication and resilience, providing compassionate care to patients in need.  
At FlexCare, we recognize that our company's success depends on our clinicians' hard work and dedication. That's why we are committed to providing the resources and support that our clinicians need to thrive, including our dedicated Clinical Service Team. We want to express our gratitude to all our traveling nurses, allied clinicians, and therapists for their invaluable contributions to the healthcare industry.