FlexCare Travel Nurse Finds His True Calling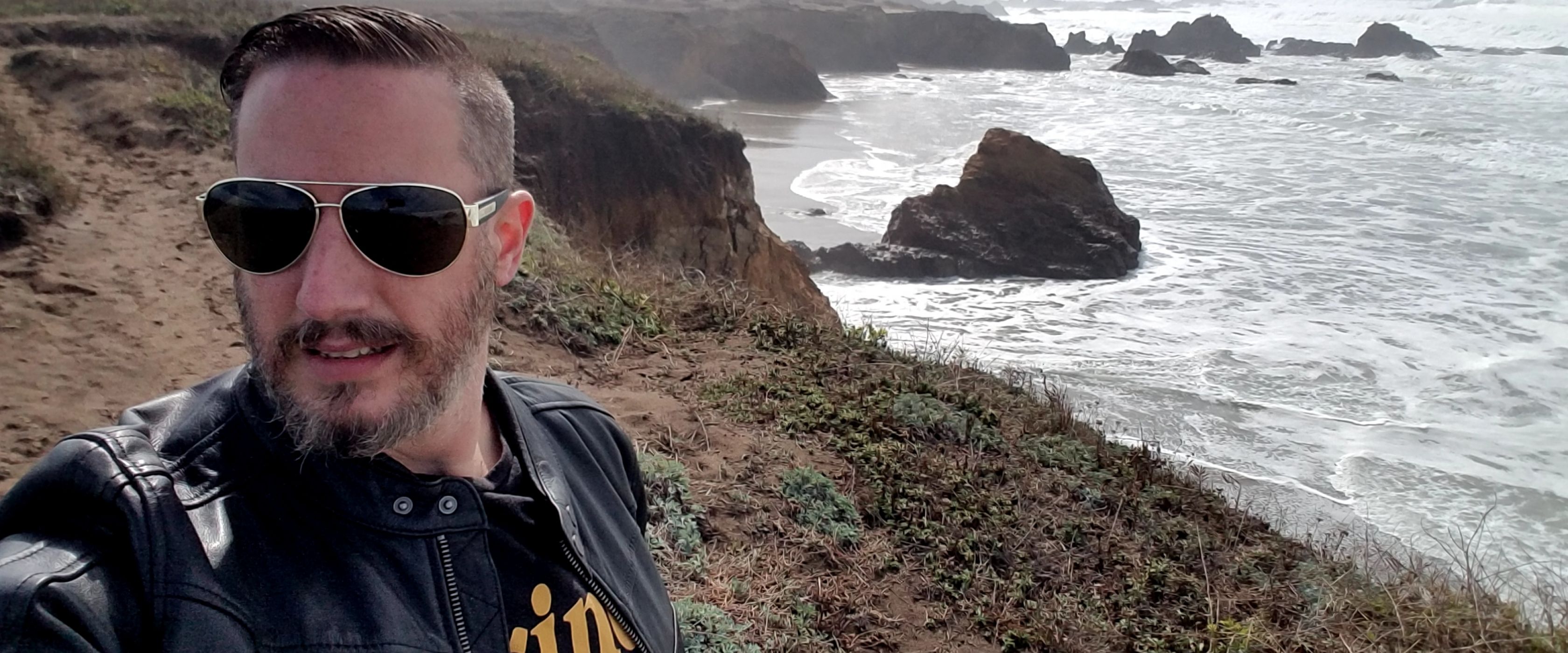 The life of a travel nurse is nomadic, to say the least, but it's also very busy, so when we get the opportunity to hear directly from one of our nurses, we love to pass along their wisdom to our community.
We caught up recently with FlexCare traveler Ryan and his dog Solo. Ryan is currently on assignment in the Northern California town of Fort Bragg - an ideal setting for a new traveler. If you're considering a career as a travel nurse, read Ryan's story and find how he makes it work and what he believes is essential to embrace as a traveler.
FC: How long have you been a nurse and what made you decide that nursing was the career for you?
Ryan: I made the decision to be a nurse in October of 2008. I was a sales manager during the recession, with 59 employees, and I was told we needed to lay off 47 of them. They were mostly friends of mine and I was heartbroken.
My brother was an ER nurse and had been trying to convince me for several years that I would love it. He arranged to have me job shadow with him in the ER overnight, and at some point, while I was watching my baby brother and his team save a man with a gunshot wound, I decided that a sales job just wasn't going to cut it anymore. I needed to find a career that really changed lives, mine included. I became an LPN in 2010 and worked my way through the bridge program in 2014.
FC: Why did you decide to become a travel nurse?
Ryan: I've always been a traveler, it comes from my gypsy blood and my dad. As soon as I found out there was a job where they would pay you (extra, even!) to travel around the country saving lives, I was sold. I knew that's what I would end up doing.
FC: What cities and states have you traveled to?
Ryan: This is my first travel assignment here in Fort Bragg, CA, but I've traveled from here all over Southern California, to San Francisco, Yosemite, and after I finish my renewal (I love it here!), I'll be heading off to visit Ireland!
FC: What are the benefits of traveling in an RV?
Ryan: I love the freedom. If I'm tired of looking at the forest, I move down the road to the ocean. When I tire of the ocean, I meander off to the mountains. My locale changes all the time, but I always have my own bed to sleep in.  Also, it's a whole heck of a lot cheaper than having to spring for a hotel or rental house.
FC: Tell us about your dog, Solo.
Ryan: Solo is the best traveling companion I could ask for! I adopted him after he was run over and his previous owners left him on his own. The shelter back home asked my mom to basically be hospice for him, as they didn't expect him to survive. I was helping my mom take care of him, and he was just so GOOD. Even when he was hurt, he never would pee in the house, he would always wait for my long shifts to be over. We formed a really tight bond, and now we're almost inseparable.
FC: What do you do in your free time?
Ryan: Here in Fort Bragg I do a whole lot of hiking. It's a gorgeous area on California's Mendocino Coast with tons of trails, loads of rivers for kayaking, and I plan to come back in the fall to do some abalone diving!  Other than that, I look for shorter extended weekend getaways I can do while I plan my next travel assignment or my next big vacation.
FC: Tell us about a unique experience you had while traveling.
Ryan: I've only been traveling for three months, but I've already had loads of experiences. The most harrowing was driving across the country with the RV on my back. I had never towed it more than an hour before, so five straight days from Florida to Northern California was tough. I would recommend to anyone considering doing that to give themselves plenty of time to get across the country!!!
FC: What advice would you give someone who is considering travel nursing?
Ryan: Embrace change! The hospital is different, the people are different, the germs are different, the tools and techniques are different, treatments vary, etc.  Be glad for the opportunity to grow in your career, to learn about how things are done, and be ready to share your own skills with your new hospital. You never know how you may be able to help, so stay open to the possibilities!
FC: What sacrifices have you made as a traveler?
Ryan: It can be challenging, particularly being away from friends and family. I've always been a traveler, so I'm used to not being around family for extended periods, but even with that experience in my pocket, this holiday season was difficult and I had to pay out the nose to get a short-notice flight home to say hi.  Also, being sick away from any support structure is tough. Be ready to persevere through some low points.
FC: What is the one thing you cannot live without as a traveler?
Ryan: Definitely my dog Solo, but specifically here in Fort Bragg, I can't live without my micro-wool underclothes. This Florida boy gets COLD!
FC: What is the most important thing you want people to know about your life as a travel nurse?
Ryan: I feel like this life was designed for me, and I couldn't be happier with it. Even at my lowest, I know my next adventure is right around the corner.