Healthcare Heroes 2019: Travel Nurse Uses Free Time to Give Back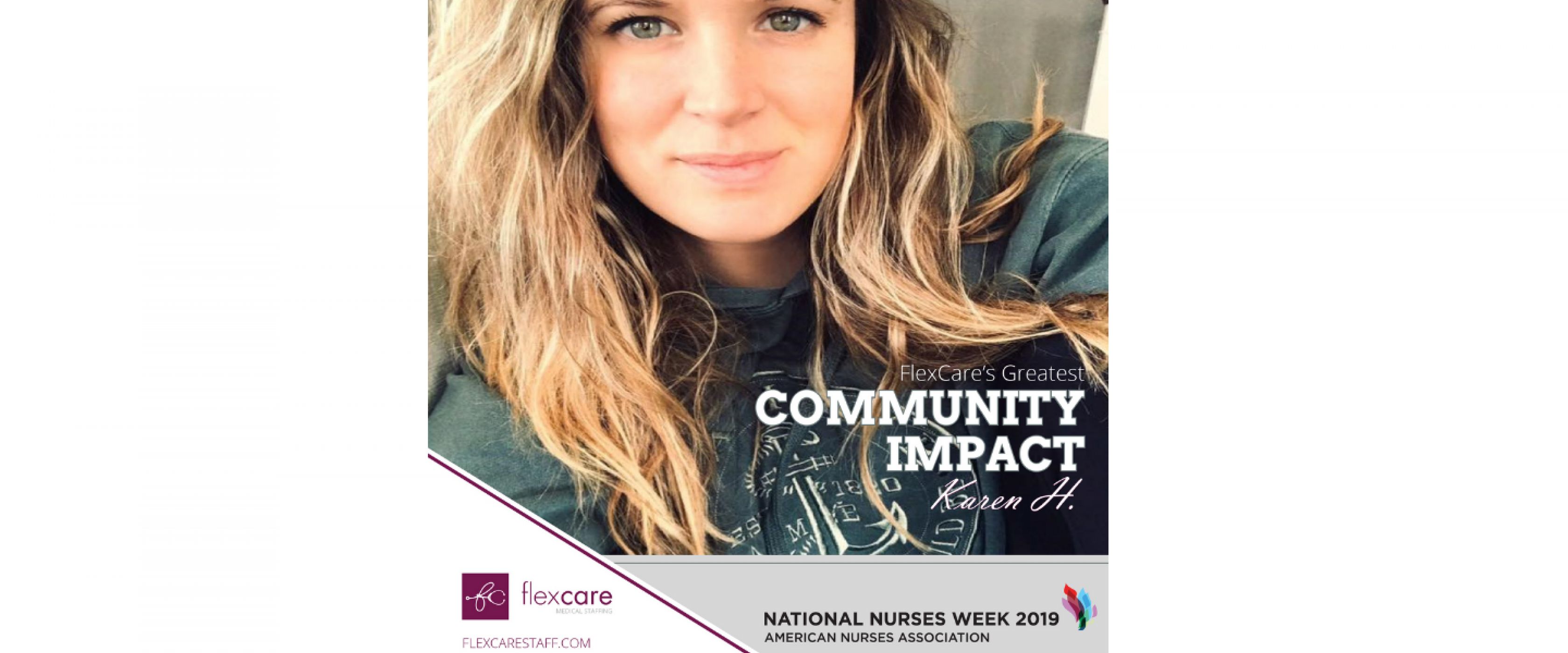 Travel Nurse and PCU RN, Karen - Community Impact Award
Karen, PCU RN, has been working with FlexCare since 2016 and is the recipient of our 2019 Community Impact Award. Karen is giving back in ways that inspires others and leaves a lasting impression on those around her.
Currently on FlexCare assignment number 18, Karen has worked in seven states since joining the FlexCare family as a travel nurse. Her assignments have taken her to North Carolina, South Carolina, Arizona, Utah, Massachusetts, Maine, and Florida!
Karen is not one to stand still for long. From hiking in Utah and Arizona, to enjoying the nearest MLB game, surviving blizzards in Boston, chilling on the beach and boating in Florida, to lobster trapping in Maine, Karen defines her life by the special memories she creates along the way. 
But her biggest adventures happen when she donates her time between assignments to travel on mission trips to the Dominican Republic in service to the underprivileged. "Karen is a kind and compassionate soul," said Natalie Pisciotta, Executive Recruiter. "I had a chance to meet up with her a few months ago. It was incredible to hear some of the stories about her adventures in travel nursing."
Karen is a kind and compassionate soul.
We caught up with Karen and asked her to pass along some bits of wisdom about nursing.
What's one thing you enjoy most about being a travel nurse?
"Travel nursing has allowed me to fall in love with the hearts of people and fall in love with this country in the most remarkable way. I have been extremely fortunate for the opportunity to serve people in their weakest moments. I am still in awe by the stories of those I have met along the way and so inspired by people of all walks of life. There has been SO much I have enjoyed and learned, but my greatest adventure of all has been experiencing the kindness and selflessness of complete strangers. It has forever changed my life."
What attracted you to nursing?
"I'm fascinated by people and strange things! Haha! In nursing, those two things go hand in hand, fortunately! I love learning how the body works, especially in the realm of medicine. It's just a passion of mine to learn about and care for people as best as I know how." 
What's one piece of advice you would give new nurses?
"Be patient with yourself. It will come. You're here for a reason. For a new travel nurse? Get ready for the ride of your life! Embrace it. Allow yourself to be scared. You aren't going to know everything, so just enjoy trying to learn it all with the comfort of knowing you never can. Be open. Remember when you enter a new hospital/unit, it is their home. You need to treat it that way. Just love - learn to love your surroundings, love yourself, love the people around you. It will serve you well."
Learn to love your surroundings, love yourself, love the people around you. It will serve you well